It takes a lot of effort to be a farmer. Sure, you get to spend the entire day outside, and you have access to a plentiful supply of wonderfully fresh and organic food. There are also the early morning start times and 14-hour days, which are replete with hard physical effort, ripe animal dung, and sensitive cow udders. Technology is, thankfully, making its way down to the farm. It also makes life a little easier for those who live off the land.
Eli Whitney received a patent for his cotton gin in 1794, a breakthrough contraption that made de-seeding balls of the fluffy white stuff a lot easier. From GPS-equipped tractors and robot milking machines to hand-held gadgets that analyze nitrogen levels in soil, modern inventors are enhancing farming efficiency and efficacy in 2014.
The Derry-o, heigh-ho. On the dell, the farmer has some new toys to play with. While some may not have yet made it to a conventional farm, the majority has and others will if prices fall.
1. Robotic milking
Robotic milking reduces labor demands on dairy farms of all sizes and allows farm families milking up to 250 cows to live a more flexible lifestyle. Because milking is voluntary, barn layouts that facilitate low-stress access by providing ample open space near milking stations and escape pathways for waiting cows increase milking frequency and decrease fetching. Because lame cows are less likely to attend robotic dairies, minimizing lameness with comfortable stalls, clean alley floors, and effective foot bathing is a top priority.
Foot bathing, sorting and handling, and dealing with special-needs cows are all made more difficult by variable milking intervals. To solve these issues and ensure that the predicted labor savings are realized, appropriate cow routing and separation options at the milking stations are required. All handling chores should be able to be completed by a hard worker alone, thanks to protocols, layout, and gating. When free and directed traffic systems are used together, they provide similar results.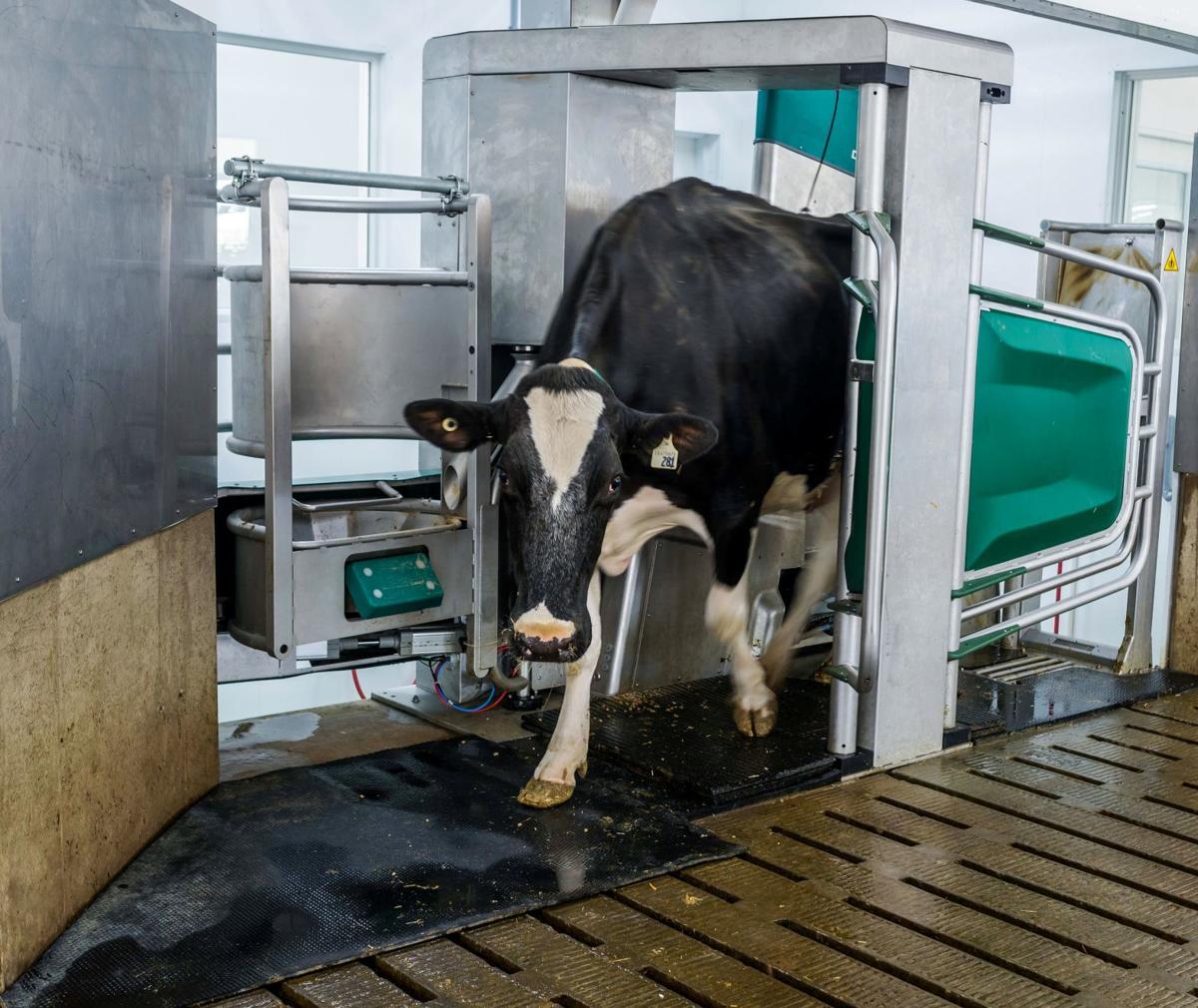 When excellent management is used or when the number of cows is considerably below capacity, both free and directed traffic systems produce equal outcomes. In less-than-ideal situations, guided traffic and the usage of commitment pens result in greater standing durations and stress, especially for lower-ranking cows, while inadequate traffic management results in more fetching work.
2. Precision Soil Sampling
Soil sampling entails obtaining a tiny sample of soil and sending it to a lab to determine its nutritional content. Chemical, physical, and biological qualities, all of which are important for plant nutrition, can be examined in the soil. The availability of nutrients such as nitrogen, phosphorus, and potassium are required for basic plant nutrition; soil samples can also determine the pH levels of the soil, as well as humus content, accessible lime, complete Sulphur content, and total CaCO3.
Soil analysis includes taking soil samples and executing laboratory tests, followed by an interpretation of the results. Then additional fertilizer and soil protection recommendations can be made.
3. Nitrogen sensors
The GreenSeeker technology monitors plant health in the field and allows the farmer to apply nitrogen fertilizer only when necessary.
The GreenSeeker technology monitors plant health in the field and allows the farmer to apply nitrogen fertilizer only when necessary.
Nitrogen is an important component of every successful crop fertilizer. Plants that take in the fertilizer, process it, and then release it back into the air benefit from the chemical. The problem is that nitrogen from fertilizers that is not absorbed into the atmosphere can end up in groundwater. Not only does this contribute to climate change, but it can also kill fish and other marine species. The overabundance of nitrogen can also harm the crops.
Green Seeker is a character in the game Green Seeker. An optical sensor is included in both the hand-held and boom-mounted versions of the gadget, which analyses plant health and allows farmers to utilize fertilizer more efficiently. The sensor fires bursts of red and infrared light onto the crops then monitors how much light is reflected back. The higher the light reading, the healthier the plant will be and the less fertilizer will be required. 
4. Electronic ear tags
With the introduction of electronic ear tags, keeping track of old Bessie the cow became a little easier. The tags, which are equipped with radio frequency identification (RFID) chips, can interact with antennas installed on feeding troughs, allowing farmers to see when – and how much – their cattle are eating. Changes in eating habits are frequently indicative of a problem with a cow.
Similarly, some cows wear pedometers on their ankles to alert farmers to how much time they spend lounging or standing motionless, which can suggest health difficulties in addition to being a sign that a cow is in heat. Detecting and isolating diseases such as foot-and-mouth illness or mad cow disease might make the difference between losing one cow and losing a whole herd.
5. Hybrid planters
Farming properly is both a craft and a labor of love. Making decisions on what to grow and where to plant it is part of this. Even if they're growing the same crops, various fields are better suited for different sorts of seeds. In more difficult settings, for example, "workhorse" hybrid seeds may be required, but "racehorse" hybrid seeds may aid increase yield in superior soil.
Kinze Manufacturing's electric multi-hybrid planter billed as the first of its kind is designed to assist farmers to get the best of both worlds by allowing them to change the seeds they plant automatically as the machine moves from field to field. When switching from one seed type to another, the system uses a single seed tube to prevent gaps or hitches.
6. Irrigation app
One of a farmer's most critical responsibilities is to ensure that the water he has is used wisely (especially if rain is not in the forecast). Smart Irrigation is a new series of smartphone apps aiming at assisting cotton, strawberry, and citrus farmers control the water they use on their crops by taking local meteorological conditions into consideration.
The apps, which were developed by a University of Georgia agricultural scientist, use GPS technology already in smartphones to determine when users should water their crops by estimating how much H2O the plants use each day and factoring in area rainfall totals via a connection with the nearest weather station. It isn't only for farmers: A home user version allows gardeners to decide when to turn on the sprinklers.
7. Driverless tractors
The driverless automobile is an intriguing new technology that has the potential to transform road travel. It's also really frightening for some of us. It's difficult to comprehend driving down highways at peak speeds with no one in the driver's seat.
Farmers are also reportedly wary of allowing machines to drive on their property. Those behind the technology, on the other hand, say it's just another breakthrough that will make planting and growing a lot easier. The farmer uses this technology to run one tractor that is linked to others that can duplicate the first tractor's function. Driverless tractors are expensive – they cost over $800,000 each in 2013, for example – but they can work around the clock without a human operator and plough more precisely than most human-driven tractors.
8. GPS steering
Farmers who aren't ready to hand over the tractor keys to a machine can nevertheless make the most of their time behind the wheel by utilizing a new technology. Farmers are increasingly using mapping tools to help them plough their fields in a straight path, similar to how GPS helps automobiles discover the shortest route from point A to point B.
Growers ranked GPS steering as the top new farm technology in use in a 2014 survey by the British journal Farmers Weekly, ahead of robotic milking equipment and smartphones. By ensuring that they do not cover the same area twice, they can save time, energy, fertilizer, and seed.
9. Drones
When you mention drones, most people assume you're talking about the ones that gather intelligence and drop bombs on suspected terrorists in far-flung countries. However, the machines have the potential to act as an essential eye in the sky for farmers. Drone cameras help growers to keep a close eye on their crops, detect pests, and verify that their water is being used efficiently. All of this for less than $1,000 per person.
Drones used in agriculture are often small flying helicopters or quadcopters that may be auto-piloted using GPS and have a point-and-shoot camera. Instead of a human operator, software controls the camera, stores, and sorts photographs to provide farm owners with a thorough depiction of their vegetation's status and alert them to patterns not evident from the ground.
One of the best aspects of precision agriculture is that technology is always improving to make farming more productive. Variable-rate fertilization and seeding are becoming more popular, and it is spreading over the Great Plains at a rapid pace. As a result of this, new technology has evolved, and farmers looking for a new planter now have another option: planters that can simultaneously plant various hybrids or cultivars.
Also Read: Agricultural Biological Technology- "An Essential Pillar of Human Resource"