Drones in farming have ushered in a new era of precision and efficiency, revolutionizing the agricultural landscape. These unmanned aerial vehicles, equipped with advanced technology, offer a range of benefits that have the potential to transform the way we cultivate crops and manage agricultural resources. From crop monitoring and disease detection to precise pesticide application, drones have proven to be invaluable tools for modern farmers.
However, as with any technological advancement, the integration of drones in agriculture comes with its set of advantages and disadvantages, which need to be carefully considered. In this exploration, we will delve into the pros and cons of using drones in farming, shedding light on the opportunities they present as well as the challenges that must be addressed.
Advantages of Drones in Farming
Precision Farming
Drones in farming are equipped with advanced sensors, cameras, and GPS technology enable precision agriculture like never before. They can capture detailed data about crop health, soil moisture levels, and nutrient distribution, allowing farmers to apply resources precisely where needed. This not only enhances crop yields but also minimizes wastage of water, fertilizers, and pesticides.
Efficient Crop Monitoring
Drones provide farmers with a bird's-eye view of their fields, allowing them to monitor crop growth, identify potential issues, and respond in a timely manner. This real-time monitoring helps detect pest infestations, disease outbreaks, and other anomalies, enabling quicker interventions and preventing the spread of problems.
Quick Surveying and Mapping
Drones can rapidly survey large tracts of land and create accurate 3D maps, helping farmers assess the topography of their fields and plan drainage systems effectively. This information aids in optimizing planting patterns and irrigation strategies.
Time and Labor Savings
The use of drones in farming eliminates the need for manual field inspections, which are often time-consuming and labor-intensive. Drones can cover vast areas in a fraction of the time, allowing farmers to allocate their resources more efficiently.
Cost-Effectiveness
While initial investment in drone technology can be substantial, the long-term cost benefits are evident. Drones help reduce input costs by optimizing resource usage, reducing the need for excess fertilizers, pesticides, and water.
Enhanced Decision-Making
Access to accurate and up-to-date data empowers farmers to make informed decisions regarding planting, irrigation, pest management, and harvesting. This data-driven approach can lead to better yields and increased profitability.
Environmental Benefits
Precision agriculture facilitated by drones contributes to reduced environmental impact. By minimizing the use of chemicals and conserving water, drones help create a more sustainable farming ecosystem.
Disadvantages of Drones in Farming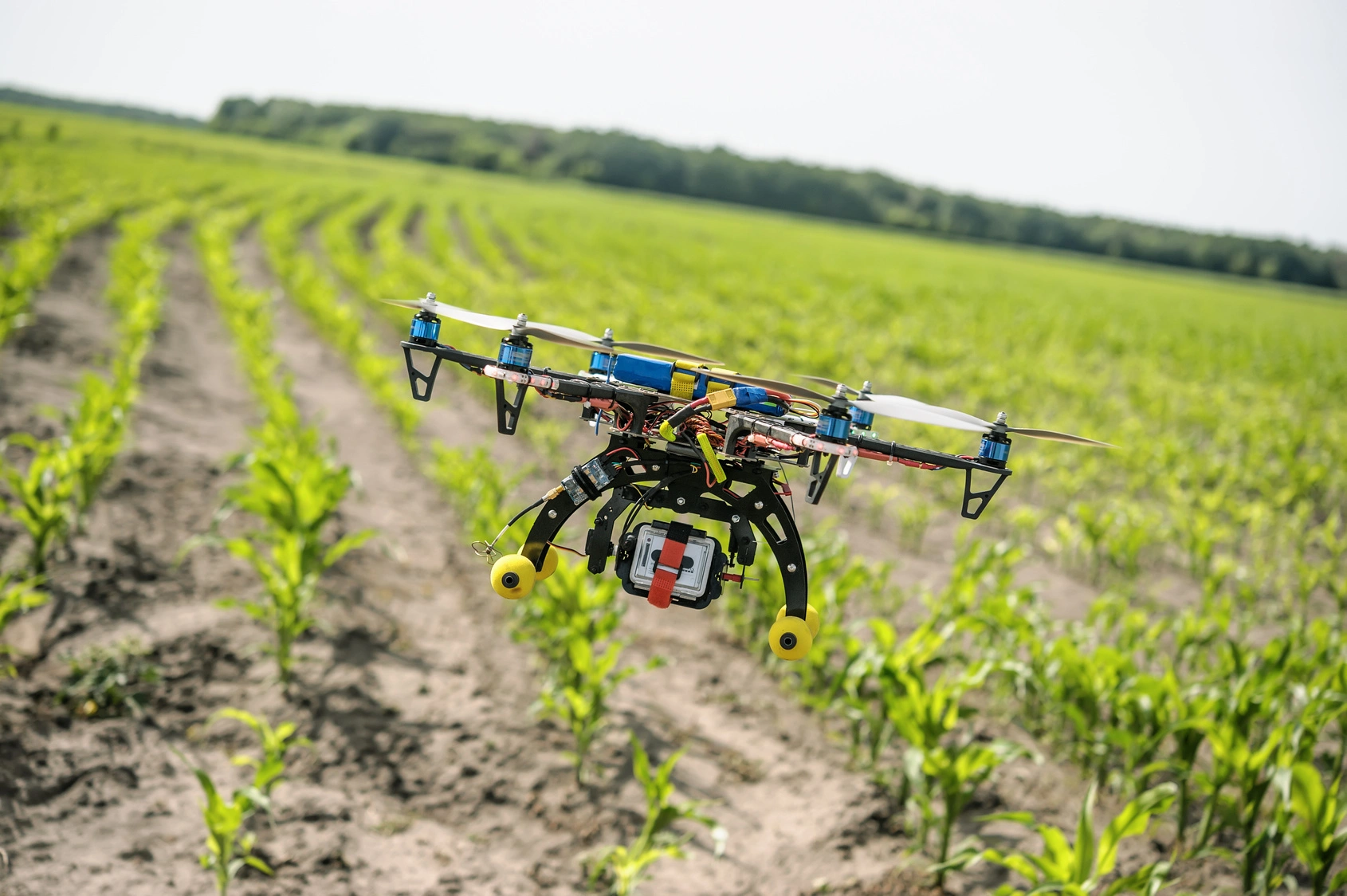 Initial Costs:

Acquiring drone technology and the required software can be expensive for farmers, especially for small-scale operations. While the long-term savings may offset the initial investment, the upfront costs can be a barrier for some.

Technical Expertise:

Operating drones and analyzing the data they produce requires a certain level of technical knowledge. Farmers may need to invest time in training or hiring skilled personnel to operate the technology effectively.
Data Overload:

Drones generate vast amounts of data, which can be overwhelming for farmers who may lack the resources or expertise to process and interpret it. Managing and making sense of this data can be a challenge.

Regulatory Challenges:

Drone usage is subject to regulations and restrictions imposed by aviation authorities. Farmers need to navigate these regulations, obtain necessary permits, and comply with safety guidelines.
Limited Flight Time:

Most drones have limited battery life, resulting in restricted flight times. This can be problematic when covering large fields, as multiple flights may be required to complete tasks.

Weather Dependence:

Drones are sensitive to weather conditions, particularly wind and rain. Unfavourable weather can limit their ability to fly and collect data, disrupting farming operations.

Privacy Concerns: Drones equipped with cameras raise privacy concerns, as they can inadvertently capture images of neighbouring properties or people. Farmers need to be mindful of privacy laws and respect their community's boundaries.
To fully harness the potential of drones in farming, farmers must weigh the advantages against the disadvantages and carefully consider their individual circumstances. While drones are not a one-size-fits-all solution, they undoubtedly offer transformative possibilities that can reshape the future of agriculture, helping farmers meet the demands of a growing global population while practising sustainable and efficient land management.
As technology continues to evolve, addressing the challenges and harnessing the benefits of drones will be essential in reaping the rewards they have to offer to the modern agricultural sector.
Risks of Agricultural drones
Drones in farming offers many benefits, such as increased efficiency and productivity, improved crop health monitoring, and reduced input costs. However, there are also some risks associated with the use of agricultural drones, including:
Safety Risks
  – Malfunction or incorrect operation of drones can pose safety risks to people and animals on the ground.
  – Crop-spraying drones, if they crash or apply chemicals incorrectly, may endanger human health and the environment.
Privacy Concerns
  – Drones equipped with cameras have the potential to capture images of private property without consent.
  – This raises legitimate privacy concerns for farmers and nearby residents who may feel their privacy is being invaded.
Security Risks
  – Drones could be exploited for illegal activities, such as theft of agricultural products like crops or livestock.
  – There is also the potential for drones to be used in the sabotage of agricultural operations, highlighting the need for enhanced security measures.
Environmental Risks
  – Drones, particularly when used in ecologically sensitive areas, can disturb wildlife and disrupt ecosystems.
  – The presence and noise generated by drones may have adverse effects on natural habitats, impacting local fauna and flora.
Regulatory Compliance Risks
  – The use of drones in agriculture is subject to a myriad of regulations.
  – Farmers must ensure they are in compliance with these laws and regulations, as non-compliance can result in legal issues and penalties.
Conclusion
As we transition from traditional farming to a high-tech future, drones have undoubtedly become invaluable assets in agriculture. Their role in efficient crop monitoring, cost reduction, and sustainable practices is irrefutable. However, this technological leap is not without its caveats. Safety, privacy, and regulatory compliance concerns necessitate vigilant attention.
Striking a harmonious balance between reaping the advantages of drones and mitigating these disadvantages is the key to ensuring a prosperous and responsible future in farming. By navigating these challenges with care and innovation, we can propel agriculture to new heights, leveraging drone technology to achieve greater productivity, sustainability, and success in the fields of tomorrow.