India, often referred to as the "land of agriculture," has a rich history deeply intertwined with farming. Agriculture is not merely an industry but a way of life for millions of Indians. However, the face of agriculture in the country is evolving, embracing the winds of technological change, and marching towards a more efficient and sustainable future. At the heart of this transformation is Agri-Tech, a dynamic sector that has shown its mettle, especially during the challenging times brought about by the pandemic.
What is Agri-Tech?
Agri tech, short for Agricultural Technology, is a burgeoning sector that harnesses innovative solutions and technologies to enhance various aspects of agriculture. These include precision agriculture, farm management, supply chain optimization, and financial services tailored to the agricultural sector. Agri tech is not only transforming the way farming is done but also opening up new horizons for farmers across India.
Importance of Agri-Tech in India
Agri tech, or agricultural technology, plays a vital role in India due to its significance in the country's economy and livelihoods. Here are some key points highlighting the importance of Agri-Tech in India:
Increased Productivity: Agri tech innovations such as high-yielding crop varieties, precision farming, and mechanization enhance agricultural productivity, helping to meet the growing demand for food.
Food Security: India's large population depends on agriculture for sustenance. Agri-Tech helps ensure a stable food supply and reduce the risk of food shortages.
Water Management: With water scarcity being a significant issue, Agri-Tech offers solutions like drip irrigation and soil moisture monitoring to optimize water use in agriculture.
Smallholder Empowerment: Technology provides small and marginal farmers with access to information, markets, and financial services, improving their income and livelihoods.
Reduction in Post-Harvest Losses: Cold storage facilities, better transportation, and supply chain management technologies help reduce post-harvest losses, which have been a major concern.
Climate Resilience: Agri tech assists in adapting to climate change by providing weather forecasting, crop modeling, and climate-smart agricultural practices.
Market Access: Digital platforms and e-commerce enable farmers to connect directly with buyers, eliminating intermediaries and improving their income.
Soil Health and Fertility: Soil testing and nutrient management technologies promote sustainable farming practices and maintain soil health.
Pest and Disease Management: Agri-Tech tools aid in early detection and control of pests and diseases, minimizing crop losses.
Government Initiatives: The Indian government has launched various programs and subsidies to promote Agri-Tech adoption, such as the Pradhan Mantri Fasal Bima Yojana and e-NAM (National Agriculture Market).
Environmental Sustainability: Agri-Tech encourages the adoption of eco-friendly practices, reducing the environmental impact of agriculture.
Skill Development: Technology adoption in agriculture requires skill development and training, creating job opportunities and improving livelihoods in rural areas.
Data-Driven Decision Making: Access to data and analytics helps farmers make informed decisions about planting, harvesting, and crop management.
Global Competitiveness: By embracing Agri-Tech, India can enhance its competitiveness in global agriculture and agri-export markets.
Research and Innovation: Agri-Tech fosters research and innovation in the agricultural sector, leading to the development of new and improved technologies.
Rural Development: The growth of Agri-Tech supports rural development by increasing income levels, improving living standards, and reducing migration to urban areas.
Food Safety and Quality: Technology ensures food safety and quality standards are met, facilitating trade and export opportunities.
Sustainability Goals: Agri-Tech aligns with India's sustainability goals by promoting responsible and efficient use of resources.
Agri-Tech is of paramount importance in India as it addresses the country's food security needs, enhances rural livelihoods, and promotes sustainable and climate-resilient agricultural practices. It is a key driver for the modernization of Indian agriculture, ensuring long-term economic growth and prosperity.
Impact of the Pandemic on Indian Agriculture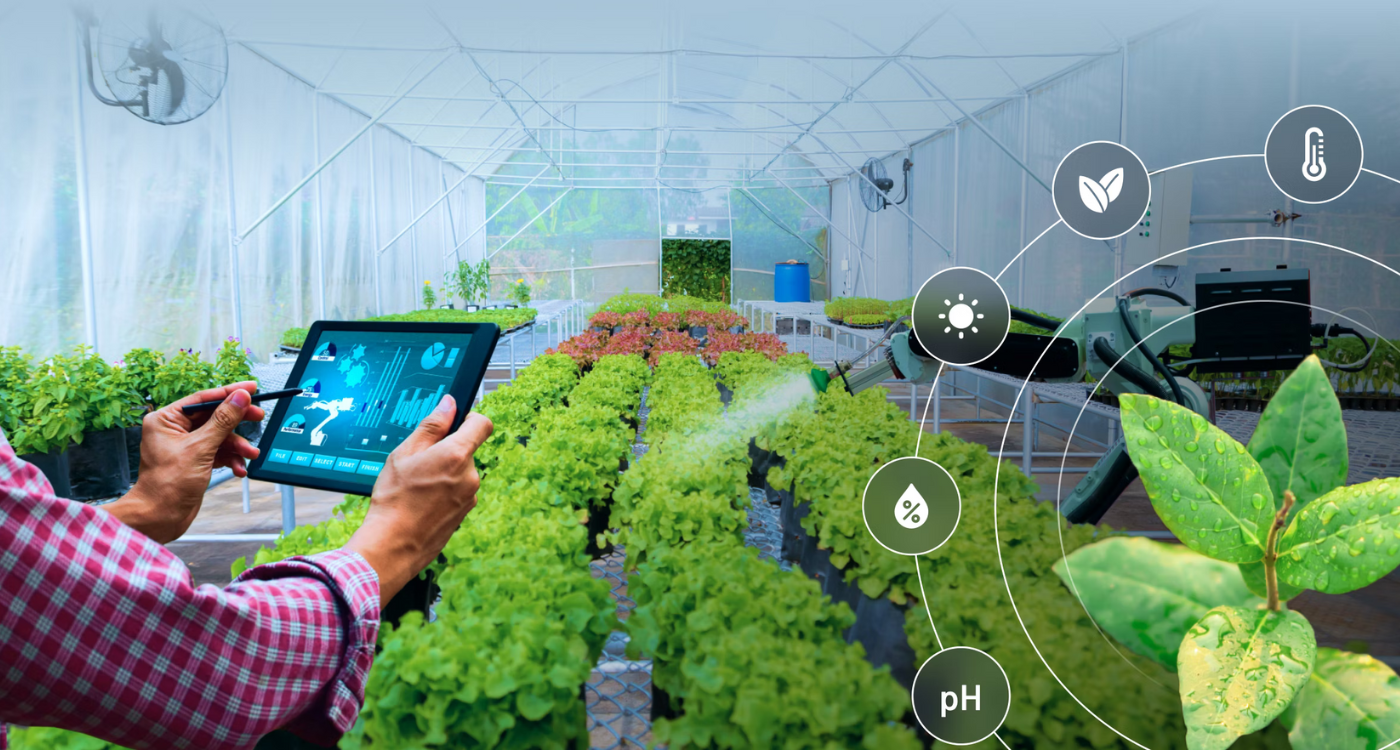 The COVID-19 pandemic wreaked havoc on economies worldwide, and India's agricultural sector was no exception. The pandemic disrupted supply chains, delayed logistics, and led to labor shortages, posing significant challenges for farmers. In this crisis, Agri-Tech emerged as a beacon of hope.
Agri-Tech Innovations During the Pandemic
Agri-Tech companies, quick to adapt and innovate, played a pivotal role in ensuring food security during the pandemic. Their efforts can be categorized into several key areas:
E-commerce Platforms for Farm Produce: With lockdowns restricting the movement of people and goods, e-commerce platforms for farm produce filled a crucial gap. These platforms connected farmers directly to consumers, eliminating intermediaries and ensuring that fresh produce reached the market and households efficiently.
Precision Agriculture Technologies: Precision agriculture involves the use of data and technology to optimize various aspects of farming, from soil health management to crop monitoring. These technologies helped farmers enhance their productivity, reduce resource wastage, and make informed decisions.
Agri-Fintech Solutions: Access to finance has been a longstanding challenge for farmers in India. Agri-fintech companies offered solutions like digital lending and insurance, providing financial security to farmers during uncertain times.
Supply Chain Management Solutions: The pandemic exposed the vulnerabilities in supply chains. Agri-Tech companies introduced innovations in supply chain management, ensuring the smooth flow of agricultural products from farms to consumers.
Transformation of Indian Agriculture During the Pandemic
The pandemic has acted as a catalyst, accelerating the adoption of Agri-Tech solutions among Indian farmers. This transformation has brought about several positive changes:
Increased Adoption of Technology by Farmers: Farmers are embracing technology, with smartphones becoming essential tools for accessing agricultural information, weather updates, and market trends.
Improved Efficiency and Productivity: Precision agriculture technologies have enabled farmers to make data-driven decisions, leading to improved crop yields and resource efficiency.
Reduced Wastage: Better supply chain management has reduced post-harvest wastage, ensuring that more produce reaches the market and consumers.
Enhanced Market Access for Farmers: E-commerce platforms and digital marketplaces have connected farmers directly to consumers, eliminating middlemen and improving farmers' income.
Challenges and Opportunities for Agri-Tech in India
While the Agri-Tech sector is flourishing, it faces several challenges:
Lack of Awareness and Adoption Among Farmers: Despite the potential benefits, many farmers, especially in rural areas, remain unaware of Agri-Tech solutions. Bridging this knowledge gap is crucial.
Infrastructure Constraints: Limited access to reliable internet and infrastructure in remote farming areas can hinder the adoption of Agri-Tech.
Limited Access to Finance: Many small and marginal farmers still struggle to access formal financial services, posing a challenge for Agri-Tech solutions that rely on digital finance.
Regulatory Challenges: The Agri-Tech sector must navigate a complex regulatory environment, including issues related to data privacy, intellectual property rights, and financial regulations.
However, these challenges also present opportunities for Agri-Tech startups and investors:
Opportunities for Agri-Tech Startups and Investors
The potential for growth in the Agritech sector is immense. Startups that can create solutions tailored to Indian agriculture, especially for small and marginal farmers, have a vast market waiting to be tapped. Investors are increasingly recognizing the importance of this sector, leading to increased funding and support for Agri-Tech innovations.
Conclusion
Agritech is not just a buzzword; it's a revolution that is reshaping the landscape of Indian agriculture. The pandemic had impacted the nation in a lot of ways, posed challenges, but it also accelerated the adoption of technology and innovative solutions that are crucial for the sector's growth and resilience. As Agri-Tech continues to evolve, Indian farmers and agriculture as a whole stand to benefit significantly, promising a more sustainable, efficient, and productive future for one of the world's largest agricultural economies.