Drones are a vital tool in the era of precision farming, and they will take farming to a whole new level. They're a low-cost approach to collect data on a variety of crop conditions in a short amount of time.
Drones have also demonstrated a great deal of promise in terms of providing sustainable farming, increasing yields, and increasing overall farm profitability. Precision agricultural techniques, which can aid farmers in making better decisions, have advanced greatly in recent years, with the global industry expected to reach $43.4 billion by 2025.
While drones, also known as unmanned aerial vehicles (UAVs), have yet to make their way into popular agriculture, they are becoming increasingly crucial in precision farming, allowing farmers to lead the way with sustainable farming practices while simultaneously safeguarding and growing profits. Drones are used in agriculture for a variety of tasks, including mapping, surveying, crop-dusting, and spraying. 
Mapping/Surveying
Agriculture technology is always changing. Precision farming, which can improve farm productivity and profitability, requires accurate and reliable georeferenced data based on GPS coordinates and automated steering systems, as well as the use of remote sensing (drones).
The procedure of mapping or surveying crops with a drone is pretty simple. Many modern agricultural drone models include flight planning software that allows the operator to create a circle around the region that has to be covered.
Crop monitoring, for example, is simplified by the use of drone data to precisely plan and implement ongoing adjustments, such as ditch placement and fertilizer application changes.
Instead of more typical time and labor-intensive data collecting, products can be properly traced from farm to fork utilizing GPS positions for every stage along the path. The software then generates an autonomous flying path and, in some situations, even sets up camera shots.
Spraying Function
The Yamaha RMAX was licensed by the Federal Aviation Administration in 2015 as the first drone weighing more than 55 pounds to carry fertilizer and pesticide tanks and spray crops.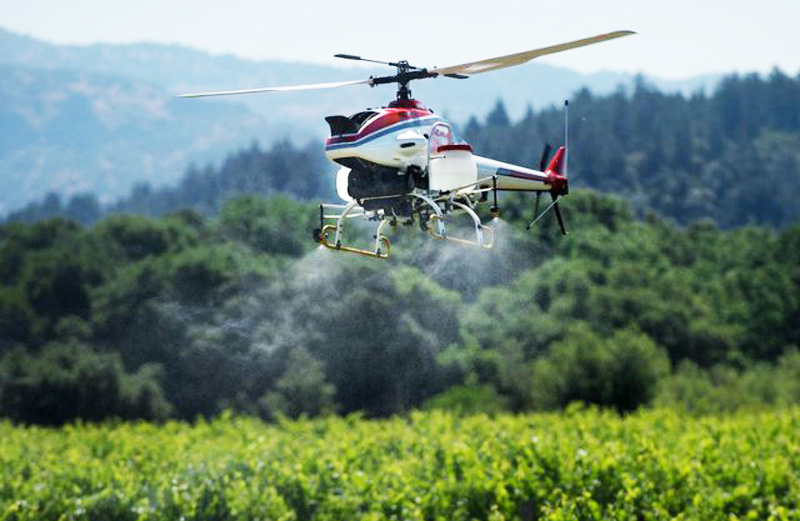 Drones like this can spray crops with significantly greater accuracy than a typical tractor. This saves money and potentially exposes workers to pesticides who would otherwise have to physically spray such crops.
Future Of Farm Drones
UAVs have a lot of potential in terms of improving sustainable agriculture. Already, the agriculture drone market is expected to be worth $32.4 billion, indicating that the sector is starting to see the advantages of drones over more traditional approaches like ground mapping.
Estimating annual yield can assist guide decision-making and manage expectations, especially in present turbulent market conditions.
Furthermore, when compared to terrestrial procedures, which must be carried out on foot, UAVs are now considered as a safer choice for mapping tough locations, such as uneven or broad fields, that might be harmful to operators.
Also Read: Biosecurity And Its Key Planning