The Agribusiness Landscape: A World of Possibilities
The world of agriculture is not merely a sector of economic activity; it is a vibrant and thriving realm teeming with a multitude of opportunities for visionary entrepreneurs looking to leave their indelible mark on the world of agribusiness. As the global demand for sustainable and locally-sourced agricultural products continues to surge, the agricultural industry stands as a dynamic and multifaceted landscape offering abundant avenues for success. 
In this all-encompassing article, we embark on a comprehensive exploration of ten exceptional agribusiness concepts, each brimming with immense potential for those who aspire to establish a commanding presence in the agricultural sector. These innovative ideas span a diverse spectrum, ranging from harnessing cutting-edge technologies to the creation of value-added products that cater to the evolving demands of today's discerning consumers. Join us as we embark on this enlightening journey to unveil the exciting and promising prospects that agribusiness has to offer.
What is the Scope of Agribusiness?
Agribusiness is a comprehensive and all-encompassing concept that extends far beyond the traditional boundaries of agriculture. It represents a sprawling ecosystem of activities that revolve around the production, processing, and distribution of agricultural products. This definition goes well beyond the rudimentary act of farming and encompasses a multitude of sectors such as food processing, agro-tourism, cutting-edge technology, and a relentless commitment to sustainable agricultural practices.
The scope of agribusiness is anything but narrow. It is a vast realm that stretches from the fertile fields and barns of primary crop and livestock production to the bustling kitchens and dining tables where these agricultural treasures find their ultimate purpose. Furthermore, agribusiness extends its influence to every nook and cranny of the supply chain, intricately weaving its web from the moment the seed is sown to the instant the delectable dish reaches the consumer's plate.
At its heart, agribusiness plays a pivotal role in the monumental task of feeding our planet's ever-expanding population. Beyond this, it offers entrepreneurs countless opportunities for innovation, propelling economic growth, and forging a path toward sustainable agricultural practices that respect the environment and uphold the principles of responsible stewardship.
Is There a Difference Between Agriculture and Agribusiness?
While the terms "agriculture" and "agribusiness" may often be used interchangeably, they encompass different aspects of the agricultural sector. Agriculture fundamentally involves the fundamental activities of cultivating crops and rearing animals, underscoring the foundational processes of farming.
In contrast, agribusiness presents a more holistic and far-reaching concept that encompasses the entirety of the agricultural supply chain. This chain extends from the initial stages of production, characterized by the sowing of seeds and the rearing of livestock, to the subsequent stages of processing, packaging, and transportation, culminating in the marketing and distribution of the final products to consumers.
One of the key distinctions between agriculture and agribusiness lies in their approaches. Agriculture tends to focus primarily on the primary activities directly related to farming, concentrating on the laborious tasks of cultivation and animal husbandry. Conversely, agribusiness adopts a more encompassing and business-oriented approach to agriculture, with a substantial emphasis on enhancing efficiency, maintaining sustainability, and adding value to the final agricultural products. In this sense, agribusiness strives to not only produce but to optimize, enhance, and expand the agricultural sector's reach and influence.
Agribusiness serves as an essential and vast sphere, replete with dynamic and diverse opportunities that promise to reshape the agricultural landscape. This article will further explore ten such remarkable agribusiness ideas that are poised to leave an indelible mark on the sector. These concepts range from leveraging cutting-edge technologies to the creation of value-added products that cater to the evolving preferences of today's discerning consumers. 
Agribusiness Opportunities: 10 Pathways to Success
1. Agri-Tourism and Farm Stays: Cultivating Rural Experiences
Agri-tourism is a flourishing concept that bridges the gap between urban and rural life, providing city dwellers with a unique opportunity to experience life on a farm. Entrepreneurs can create agri-tourism destinations or offer farm stays, attracting visitors seeking immersive rural experiences. Activities such as fruit picking, tractor rides, and interacting with farm animals offer tourists an enjoyable escape while generating income for the farm.
2. Farm-to-Table Supply Chain: Meeting the Demand for Local Produce
The rising value consumers place on locally-sourced fresh produce makes creating a farm-to-table supply chain a profitable agribusiness idea. Collaborating with restaurants, grocery stores, and farmers' markets to deliver fresh, seasonal produce directly from the farm adds value to products and establishes a strong brand identity focused on quality and sustainability.
3. Specialty Crop Production: Meeting Niche Market Demands
Cultivating specialty crops with unique flavors or health benefits caters to niche markets and commands premium prices. Consider growing exotic fruits, rare vegetables, or high-value herbs and spices. The increasing demand for unique and specialty produce offers an excellent opportunity for agribusiness entrepreneurs passionate about innovation.
4. Agro-Forestry and Timber Production: Sustaining the Environment and Revenue Streams
Agro-forestry involves integrating trees with crops or livestock, providing multiple revenue streams for agribusiness owners. Planting timber trees or engaging in sustainable timber production is a profitable, long-term investment, offering a renewable resource while contributing to ecological sustainability.
5. Agro-Processing and Value Addition: Enhancing Market Appeal
Adding value to agricultural products through processing and packaging significantly enhances their market appeal. Consider launching a food processing unit to convert raw produce into value-added products like jams, sauces, or dehydrated snacks. These value-added products boast extended shelf life and can be sold at higher margins, increasing profitability.
6. Smart Farming Solutions: Boosting Efficiency with Technology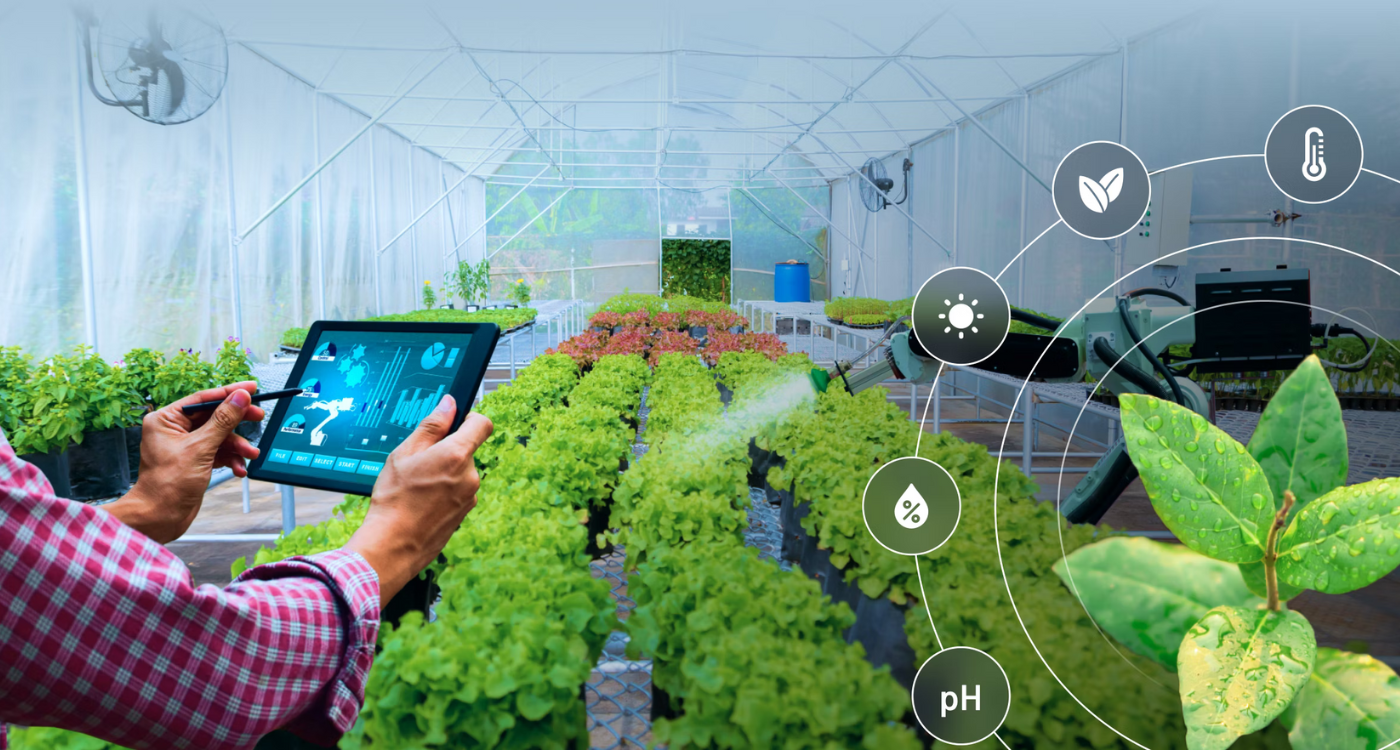 Incorporating smart farming technologies and Internet of Things (IoT) solutions into traditional agricultural practices optimizes productivity and resource management. Sensor-based irrigation systems, automated crop monitoring, and other smart farming applications enhance efficiency, reduce waste, and improve overall yields.
7. Organic Inputs and Biofertilizer Production: Meeting the Demand for Sustainability
With a growing preference for organic and eco-friendly products, there is a rising demand for organic inputs and biofertilizers. Producing and marketing organic compost, biofertilizers, and biopesticides enables the creation of a sustainable agribusiness venture that aligns with environmental consciousness and sustainable agriculture practices.
8. Livestock and Poultry Farming: A Steady Agribusiness Opportunity
Raising livestock and poultry for meat, eggs, or dairy remains a consistent agribusiness opportunity. Poultry farming, in particular, has witnessed substantial growth due to the demand for eggs and chicken meat. Investing in modern and ethical animal husbandry practices can attract health-conscious consumers seeking high-quality animal products.
9. Agricultural Export: Expanding Your Reach Globally
For agribusiness entrepreneurs in regions with surplus agricultural production, exploring international markets presents an attractive option. Exporting fresh produce, processed foods, or value-added products to countries with high demand can significantly expand the customer base and boost profitability.
10. Climate-Smart Agriculture Consulting: Navigating Environmental Challenges
As climate change introduces new challenges for farmers, providing climate-smart agriculture consulting services can be a rewarding agribusiness venture. Offering expertise on sustainable practices, water management, and climate-resilient crops aids farmers in adapting to changing environmental conditions, maximizing their yields, and securing their agricultural future.
Conclusion 
In conclusion, agribusiness represents a realm of tremendous opportunities for entrepreneurs seeking to make their mark in the dynamic and ever-evolving agricultural sector. As the demand for sustainable and locally-sourced products continues to rise, the scope of agribusiness has expanded far beyond traditional farming, encompassing a wide array of activities that span the entire agricultural supply chain. This article has explored the scope of agribusiness, differentiating it from conventional agriculture, and has highlighted ten lucrative agribusiness opportunities that hold immense potential for success.
From agri-tourism and farm stays that offer urban dwellers an immersive rural experience to the development of a farm-to-table supply chain, catering to the growing appetite for locally-sourced produce, the agribusiness landscape is brimming with innovative pathways to success. Specialty crop production, agro-forestry, agro-processing, smart farming solutions, organic inputs, livestock and poultry farming, agricultural exports, and climate-smart agriculture consulting all offer their unique advantages for aspiring agribusiness entrepreneurs.