The future of Indian agriculture looks bright as improvements in technology and innovation continue to generate growth. With the implementation of precision farming techniques, such as using drones for crop monitoring and data analytics for optimized irrigation, farmers can expect higher yields and reduced costs. Additionally, the government's focus on agricultural reforms and investments in infrastructure will further support the sector's development, ensuring a sustainable and prosperous future for Indian agriculture.
Technological Advancements Shaping the Future of Indian Agriculture
Agriculture is the backbone of India's economy. Because of undergoing improvements for farmers in ways to operate and enhance productivity, sustainability, and efficiency. Use of AI and robotics gives them innovative solutions to the challenges faced by farmers in agriculture.
Precision Farming: Optimizing Input Utilization
Precision farming, controlled by data analytics and advanced sensors, enables farmers to make decision about allocation of resource or minimizing the waste. Using proper real-time data of soil conditions, the health of the crops, and also any nutrition required for the crop. Using these data farmer can modify their resouce according to the needs of the field or crop. This approach not only reduces environmental impact but also enhances crop productivity and profitability.
Artificial Intelligence: Empowering Automated Decision-Making
Artificial intelligence (AI) is transforming the agricultural by automating tasks and providing farmers with useful insights. AI-powered systems can analyze vast amounts of data from weather variations to soil composition, enabling farmers to make a prediction about crop growth, identify problems, and make timely strategies. AI-driven irrigation systems can adjust water application based on real-time soil moisture levels, while AI-powered pest detection systems can alert farmers to pest problems early on, minimizing crop damage and reducing pesticide use.
Robotics: Revolutionizing Labor-Intensive Tasks
Robotics is set to change labor-intensive tasks in agriculture, reducing the burden on farmers and improving labor efficiency. Robotic harvesters can navigate fields, identifying and picking ripe fruits or vegetables with accuracy, reducing post-harvest losses and improving product quality. Robotic weeding machines can tirelessly remove weeds, reducing the need for chemical treatments and minimizing soil disturbance. As robotics technology advances, it is expected to include a large number of agricultural tasks, further transforming the sector.
The Convergence of Technologies for Sustainable Agriculture
The convergence of precision farming, AI, and robotics holds immense potential for sustainable agriculture. By combining these technologies, farmers can optimize resource utilization, reduce environmental impact, and enhance crop productivity. For instance, AI-driven irrigation systems can be integrated with precision farming data to minimize water usage, while robotic weeders can be deployed in areas with reduced chemical application, promoting biodiversity and soil health.
Technological Innovation: Driving Agricultural Growth and Transformation
Technological advancements are not only revolutionizing agricultural practices but also driving economic growth and transformation in rural India. Advance farming, AI, and robotics are creating new job opportunities in technology development, data analysis, and robotic maintenance. The use of these technologies is also helping farmers, providing them with the tools and knowledge to make informed decisions, improve productivity, and help in their daily lives.
As technology continues to evolve, the future of Indian agriculture is poised for remarkable growth and transformation. By accepting and adapting innovation and harnessing the power of technology, India can not only ensure food security for its growing population but also become a global leader in sustainable and productive agriculture.
Policy Initiatives Supporting Agricultural Development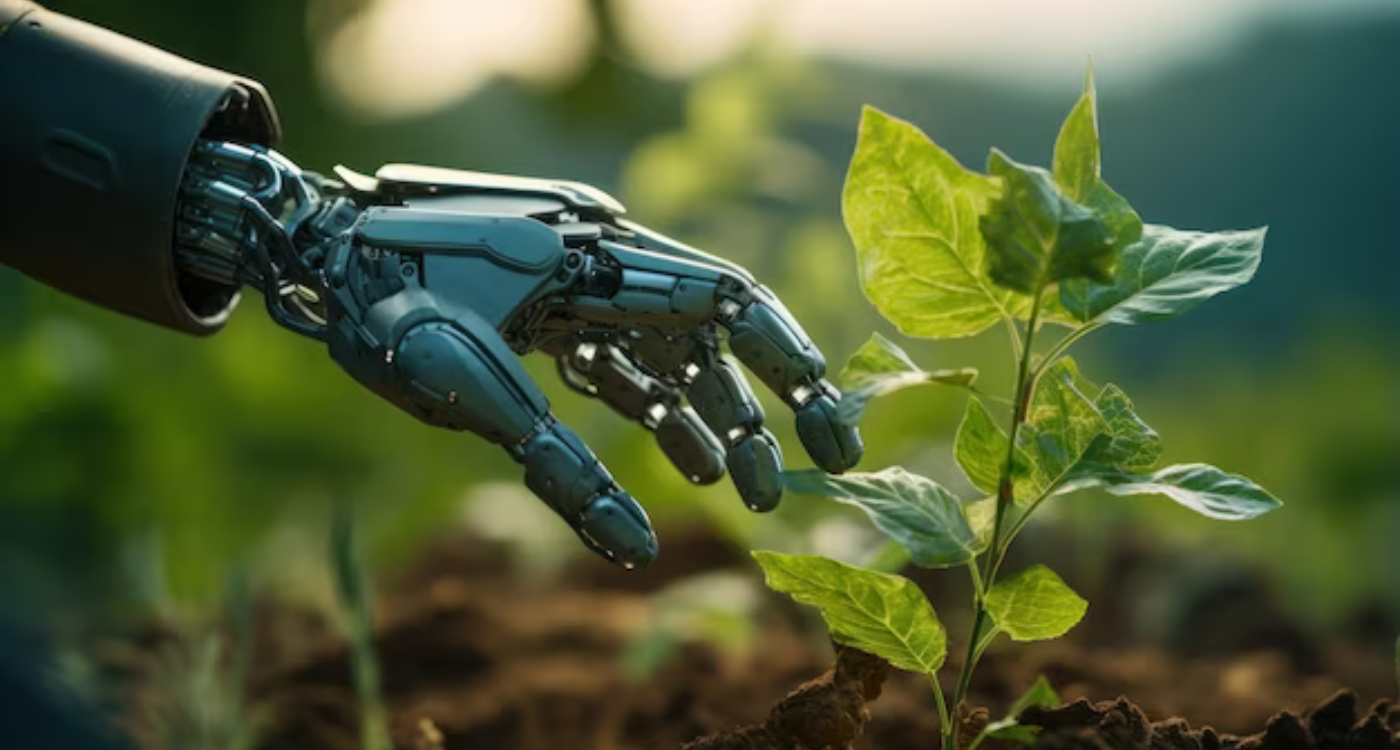 In understanding of agriculture's essential role in India's development, the government has implemented a range of policy actions to support the sector's growth. These initiatives include:
Promoting Technology Adoption: The government is actively promoting the adoption of new technologies by farmers through training programs, subsidies, and demonstration projects.
Financial Support to Farmers: Various financial support schemes, including direct benefit transfers and crop insurance, are in place to provide farmers with financial stability and resilience against risks.
Infrastructure Investments: Investments in irrigation systems, roads, and storage facilities are being made to improve agricultural infrastructure, enhancing productivity and reducing post-harvest losses.
Market Development for Agricultural Products: Efforts are underway to strengthen market linkages and promote value addition to agricultural products, ensuring better returns for farmers.
Role of ICAR, FPOs, and IFFCO in Agricultural Development
In the development of Indian argiculture ICAR, FPOs and IFFCO play an important role. Each sector play an imortant role in unique way such as ICAR is a leading organization in agricultural research and technology development, focusing on productive crop varieties, environmentally friendly practices, and efficient resource management techniques. Its contributions have significantly enhanced crop productivity, improved soil health, and promoted climate-resilient agriculture. Farmers can now work together to address issues like dispersed landholdings, low purchasing power, and limited access to markets and resources thanks to the development of FPOs as instruments for farmer empowerment.
By organizing farmers into producer groups, FPOs provide a platform for collective marketing, bulk procurement of inputs, and access to credit facilities. This collective action has improved farmers' incomes, enhanced market access, and strengthened their resilience against market fluctuations and price volatility. IFFCO, a leading cooperative fertilizer manufacturer, has been a steadfast partner in India's agricultural journey, ensuring the availability of high-quality fertilizers to farmers.
Their commitment to research and development has led to the development of innovative fertilizer formulations that enhance soil health, improve nutrient uptake, and promote sustainable crop production. Their combined efforts are transforming the Indian agricultural landscape, paving the way for a more sustainable, resilient, and prosperous agricultural sector.
Challenges and Opportunities in Indian Agriculture
Indian agriculture also faces a many of challenges that slow down its growth and limit its ability to meet the demands of a growing population. Overcoming these challenges and unlocking the sector's potential requires a multi-pronged approach that encompasses investment in research and development, promotion of technology adoption, and development of robust markets for agricultural products.
Challenges: Impeding Progress
Indian agriculture faces challenges such as small and fragmented landholdings, climate change, market fluctuations, and inadequate infrastructure. These factors delay the adoption of modern technologies and economies of scale, ans also the stability of crop productivity and income. Climate change, such as irregular rainfall and extreme weather events, also poses a threat to farmers' financial stability. Lack of facilities also delays efficient production and distribution.
Opportunities: Unleashing Potential
India has the potential to transform its agriculture sector into a vibrant and sustainable one due to growing global food demand, technological advancements in precision farming, artificial intelligence, and robotics, government initiatives like crop insurance schemes and subsidies, and emerging markets for organic and specialty agricultural products. These factors offer opportunities for diversification and value addition in the sector, ensuring India's position as a major exporter of agricultural products.
To overcome challenges and capitalize on opportunities, a comprehensive approach is needed. This includes investing in research and development to develop climate-resilient crop varieties, promoting technology adoption like precision farming and robotics, strengthening market linkages, improving infrastructure like irrigation systems and transportation networks, and empowering farmers through education, training, and credit access. These measures will enhance productivity, reduce waste, and improve labor efficiency, ultimately leading to better returns for farmers and improved livelihoods.
In conclusion, India can transform its agriculture sector into a global powerhouse, ensuring food security, enhancing farmer livelihoods, and contributing to the nation's overall prosperity. Question arises whether farmers will be able to make use of modern technologies in a country where education, holding size, infrastructure, low level of technology adoption and many other constraints are there. The path to transformation is not so easy challenges may come, but with a broad dedication to innovation, sustainability, and empowerment, the future of Indian agriculture is bright and hopeful.