Different farming practices are used in different parts of the world. All of these systems, however, have developed greatly over time in response to changes in weather and climatic conditions, technology advancements, and socio-cultural norms.
One of the prevalent farming methods in India is Subsistence Farming. Farmers in India primarily farm for their own consumption rather than for profit.
Their entire harvest is consumed by their family rather than being sold in markets. This style of agriculture can be found throughout India.
While this sort of subsistence farming is usually done on small plots of land, it also makes use of traditional tools such as a hoe, Dao, and digging sticks. This farming practice is usually used by a family or a local community of Indian farmers who use the product for their own consumption.
This is the most natural way, in which crop growth is reliant on rain, heat, and soil fertility. Subsistence agriculture uses a limited number of landforms and produces a low yield.
Most farmers undertaking this substance farming are unaware of the soil, climatic circumstances, proper equipment, and technology because of a lack of knowledge about the soil, climatic conditions, proper equipment, and technology.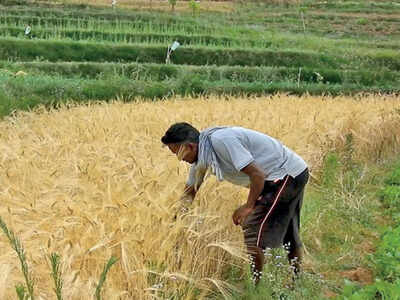 The 'slash and burn method is the cornerstone of this agricultural technique. A fine variation of this technique is also practiced which is known as Intensive Subsistence Farming.
Cultivation takes place across a bigger amount of land in this manner, making it labor-intensive. Chemical fertilizers and other irrigation systems are also employed to create a large number of products in order to yield more crops.
This style of farming is used in locations where there is a lot of population strain on the land. It is a labor-intensive agricultural method that employs high doses of biochemical inputs and irrigation to boost yields.  West Bengal, Kerala, coastal Andhra Pradesh, and Tamil Nadu farmers are good examples of intensive subsistence wet paddy cultivation in India.
Crop failure or livestock death in subsistence agriculture puts the farmer at risk of famine. The poor farmers are frequently forced to sell their possessions, such as cattle and farmland, or migrate to urban centers, where they must settle in marginal and highly susceptible locations because they lack alternative forms of income as a coping mechanism.
This exacerbates the vulnerability an poor situation. For agricultural laborers, the situation is far worse. Agriculture employs approximately 50-75 percent of India's labor force. Agriculture's increased vulnerability to climate change will have a negative impact on the lives of small and marginal farmers, as well as the labor population who are heavily reliant on this sector.
Subsistence Agriculture can be a threat to the environment too. Poverty-stricken populations are more likely to contribute to deforestation, as farming and illicit logging provide two possibilities for raising wages and improving social conditions. Poverty may boost demand for wood as a source of energy, as people may use it to cook and heat their dwellings.
However, Agriculture's future is a critical issue for planners and all other stakeholders. The government and other organizations are attempting to address the key challenges of agriculture in India, such as small farmer holdings, primary and secondary processing, supply chain, the infrastructure supporting efficient resource use, and marketing, with the goal of reducing market intermediaries.