Apples are a constant presence in the supermarket, but one taste of a just-picked, perfectly ripe apple in autumn will make you eschew grocery-store apples for good and will send you running to the garden center for an apple tree for your own backyard. While growing apples in your garden aren't hard, there are a few things you should know before you take on the committee so that you'll have edible apples in the end.
Main Highlights 
Selection of the best site
Harvesting the correct way
The right time to prune.
1. Selecting a Site
As with most fruit, apple trees produce best when grown in full sun, which means six or more hours of direct summer sunlight daily. Apple trees need well-drained soil but should be able to retain some moisture. Light- to medium-textured soils are best. Fruit trees struggle in heavy clay soil; poorly drained soils lead to root rot disease.
Plant fruit in a location with good air circulation so leaves dry quickly after rainfall or irrigation. Make sure the tree will not be planted in a "frost pocket" where cold air settles in low-lying areas. Choose a higher site with a slip if possible so that cold air will flow away from the trees.
2. Planting the Tree
Before planting, remove all weeds and the grass in a 4-foot diameter circle. After you purchase the tree, protect it from injury, drying out, freezing, or overheating. If the roots have dried out, soak them in water about 24 hours before planting.
Tree spacing is influenced by the rootstock, soil fertility, and pruning. Seedlings or full-size trees should be planted about 15 to 18 feet apart in a row. A dwarfing rootstock might be 4 to 8 feet apart in a row. Of course, apple trees require cross-pollination; a different cultivar that blooms at the same time must be planted within 2,000 feet (preferably, nearer).
Dig a hole approximately twice the diameter of the root system and 2 feet deep. Place some of the loose soil back into the hole and loosen the soil on the walls of the planting hole so the roots can easily penetrate the soil. Spread the tree roots on the loose soil, making sure they are not twisted or crowded in the hole. Continue to replace the soil around the roots. As you begin to cover the roots, firm the soil to be sure it surrounds the roots and to remove air pockets.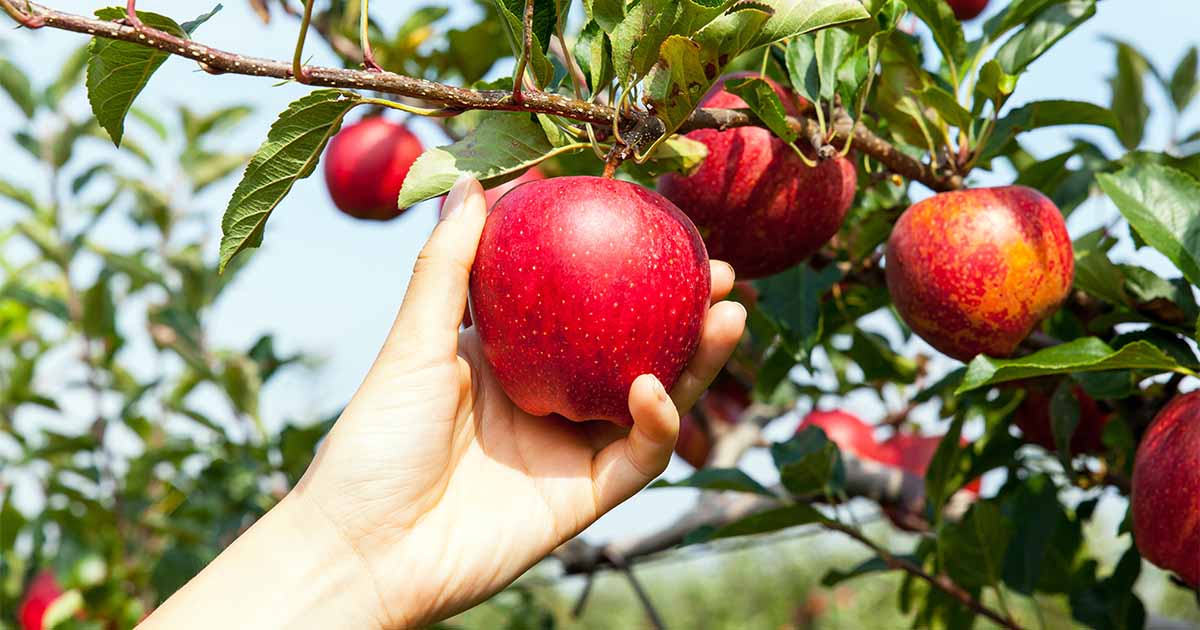 Do not add fertilizer at planting time, as the roots can be "burned". Fill the remainder of the hole with the loose soil, and press the soil down well.
Most apple trees are grafted. The graft union should be at least 4 inches above the soil line so that roots do not emerge from the scion. The graft union (where the scion is attached to the rootstock) can be recognized by the swelling at the junction.
Dwarf apple trees are notoriously prone to uprooting under the weight of a heavy crop, so you should provide a support system for your hedge. You can grow your trees against a fence, or you can provide free-standing support in the form of a trellis.
Water young trees regularly, especially those on semi-dwarfing or dwarfing rootstocks, to ensure that the root system becomes well established. Refresh mulch periodically, but pull it away from the trunk so that it doesn't rot. This also helps to prevent rodents from nesting in it over the winter and chewing on the tree's bark.
Apple trees require initial training to nurture a strong frame of branches so the trees can carry heavy apple crops. Dwarf plants must be supported with posts or trellis and trained to a central leader system. Standard trees should also be trained to a modified leader.
It's important to research your variety and climate to know which pests are most likely to be a problem, which will allow you to apply the right controls at the right time. If you wish to avoid pesticides, it is possible, though apple trees are one of the most pest-susceptible fruits.
3. Pruning
Pruning slows a young tree's overall growth and can delay fruiting, so don't be in a hurry to prune, other than removing misplaced, broken, or dead branches. There are several techniques to direct growth without heavy pruning.
Rub off misplaced buds before they grow into misplaced branches. Bend a stem down almost horizontally for a few weeks to slow growth and promote branches and fruiting. Tie-down with strings to stakes in the ground or to lower branches. Prune yearly to maintain size and form once your apple tree has filled in and is bearing fruit. Pruning reduces disease by letting in more light and air. Large trees may need more pruning (and a ladder!).
4. Harvesting
Harvest patiently. After all this pruning and caring, be sure to harvest your apples at their peak of perfection. Pluck your apples when their background color is no longer green.
The stem should part readily from the branch when the fruit is cupped in the palm of your hand and given a slight twist around, then up (do not yank on the apple). Different apple varieties mature at different times, so the harvest season can stretch from August to October. If the apple is overripe and soft, use it for cooking.